RO Membranes Manufacturer - RO Membrane Supplier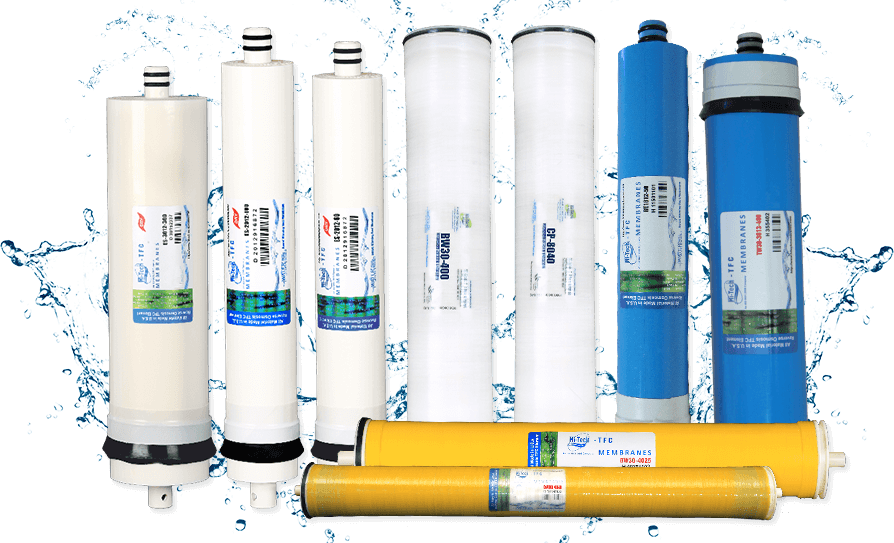 RO Membrane
Water is what defines the essence of one's life. But, the main problem in today's age is the lack of clean and pure drinking water. According to the World Economic Forum, water crisis is the number 1 global risk based on impact on society. It is also quite alarming that there are more than 663 million people, 1 in 3, who lack access to clean water. However, with the way things are changing, there are several ways in which the dream of clean water can become a reality.
At the forefront of these advancements is the advent of RO Membrane. Being one of the leaders is Hi-Tech Membranes who have been creating Industrial, Domestic, as well as, Commercial RO Membrane. The RO Membranes from Hi-Tech are accredited which is a testimony to the quality of the membranes. We provide well engineered high performing RO membranes for wide range of water filter system.
Domestic RO Elements
Hi-Tech Membranes ES-1812-50 , ES-1812-75 , ES 2012-100 Elements for home drinking water treatment units produce 50 GPD (7.9 L/h) , 75GPD (11.85 L/h ) and 100GPD (15.8 L/h ) of permeate with 98% stabilized salt rejection at standard test conditions .Our membranes are the best fit for the replacement of your old domestic RO membrane element may it be any brand. Hitech Membranes Domestic Membrane elements have been tested for safe use in drinking water applications. These dry membrane elements have the longer shelf life and are convenient for shipping and handling.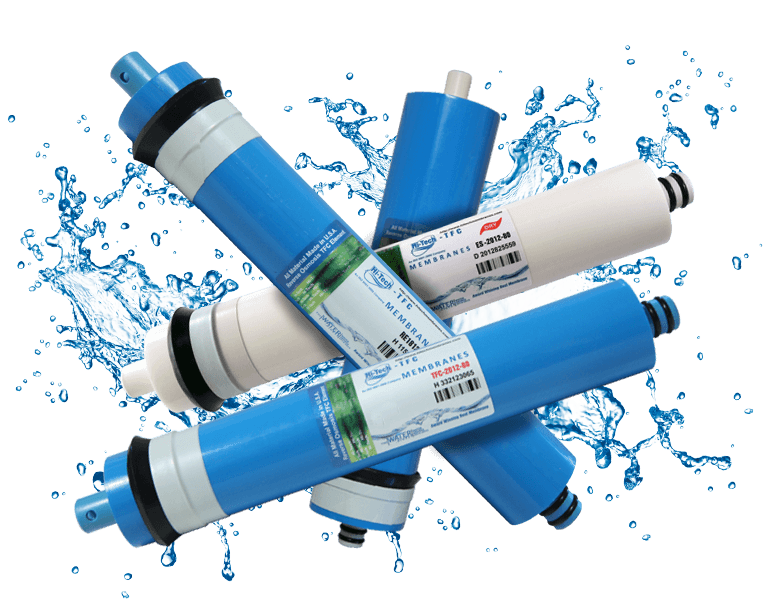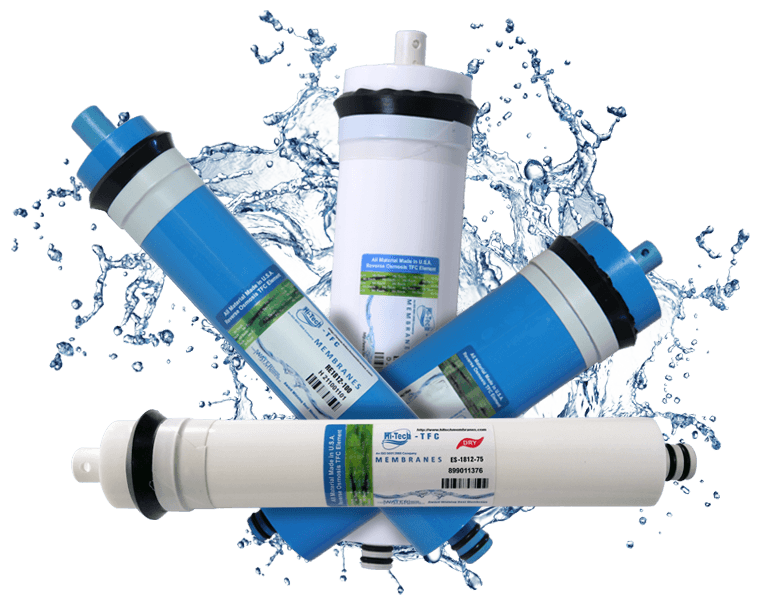 Commercial RO Elements
Commercial RO Membrane elements have shown highest growth in terms of market demand since few years. Our elements ES-3012-300, ES-3013-400, BW30-2540 and BW30-4025 have proved best fits for Water Vending Machines, Light Commercial Applications, and Small RO modules providing higher flux making it the best choice. These dry elements have proven consistent performance even in long dry runs and are certified with International standards.
Industrial RO Elements
Hi-tech Membranes use cutting edge robotic technology for manufacturing trusted range of recognised flat-sheet industrial ro membrane elements. BW30-4040, ES4040 , BW 400 are our bestsellers from our industrial range and have a proven track record for its consistent high permeate recovery , greater flux ratio and high rejection even at high TDS as high as 2500 ppm . They also are designed to sustain greater pressure drops with our latest sheets and have high active surface areas to provide better productivity.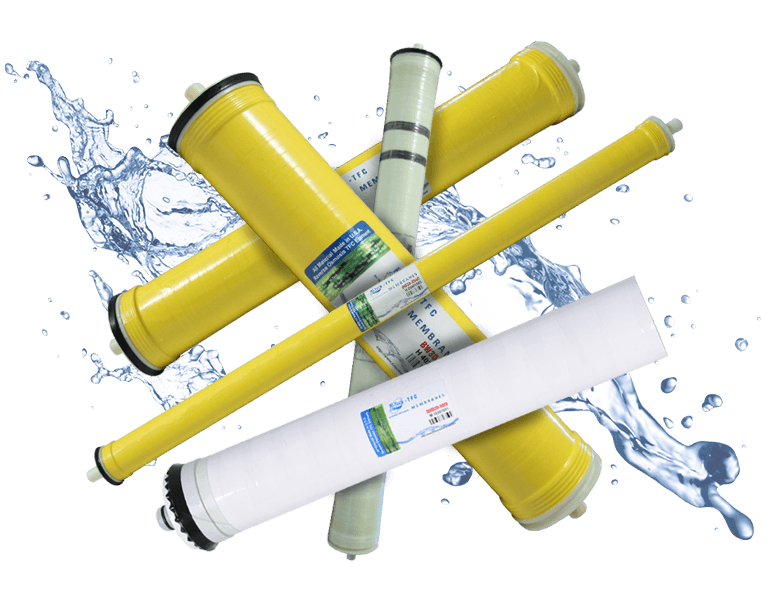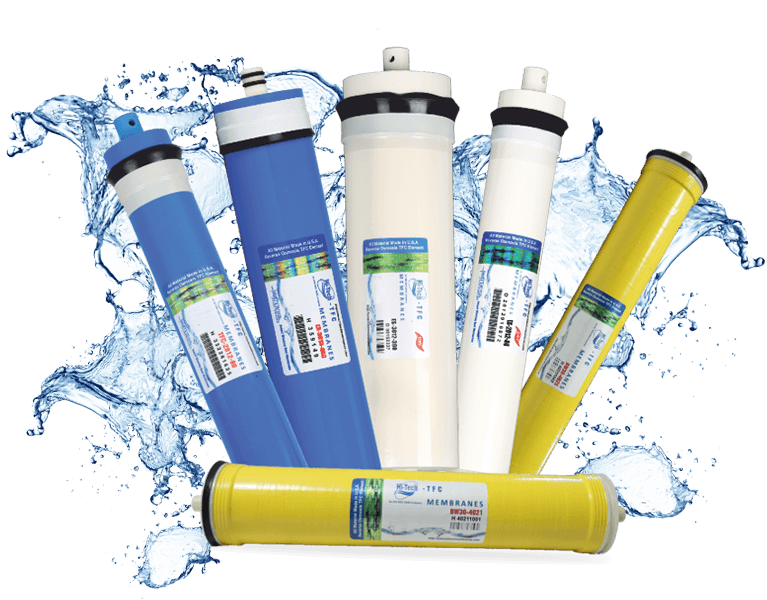 Why to choose Hitech RO Membranes?
Hi-Tech Membranes, manufacturers of RO Membranes have 21 years of service excellence, and serve as an embodiment of the words "streamlined process" because its RO Membranes are successful in removing impurities which in one way or the other are life-threatening.
As the talk about the future of our wonderful planet has started gaining more steam, it is important for us, as a society, a collective bunch of thinking minds, to come together and propagate the need for clean drinking water. There are several ways one can get clean water, but the Hi-Tech RO membrane is the sure shot solution of reducing the cost involved with water purifying and helping dozens and dozens of people quench their thirst of clean, drinkable water.
KNOW MORE ABOUT HITECH RO WATER FILTER MEMBRANES