December 11, 2017
Posted by:

hitechmembranes

Category:

RO Membranes
Planet Earth is continuously being affected by global warming and changes in the climate. In the coming 30 years, we are expected to experience an increase of 2-5 degrees Celsius in the global temperatures. An effect of climate change that often gets overlooked is its impact felt on water treatment processes.Water contamination is a serious issue due to increased environmental deterioration, high soil erosion, occasional flood, and increase in pollution level. Hence, the availability of clean water has been reducing, and the demand for water treatment is increasing. RO Membrane water treatment is an important element that has been  meeting the demands of clean water since many years. The RO membrane market is growing at a high rate due to the growing demand from end-use industries such as municipal water treatment, power generation, chemicals, oil & gas, and mining.
What Makes RO Membranes So Crucial?
Reverse Osmosis membrane is an integral part of any water purifier today. It is a thin film made up of microscopic pores. The RO membrane elements provides the semi-permeable membrane that initiates the process. The pressurized feed water is permeated through the semi-permeable membrane leaving the contaminants contained in the feedwater behind as concentrate in the form of waste water. In addition to sending the contaminants to drain, the concentrate or waste stream provides a persistent flow across the membrane surface minimizing the buildup of contaminants on the RO membrane surface.
Today there are wide range of RO membranes available in the market to choose from, but the  question is, who should we rely on?
Hi-Tech membranes: Your Key to Best RO membranes
Hi-Tech, (Hi-tech membranes Co. Ltd.) is an  ISO 9001:2008, 14001-2004, 18001-2007  certified company. With more than two decades of experience, Hitech is the undisputed manufacture and supplier of RO membranes for Water Filters. It has been awarded the Water Digest Water Awards for the best RO Membrane, consecutively for two years. Based in Thailand, Hitech has its own fully integrated manufacturing unit in Phan Thong, Chon Buri.
Why Hitech?
Having vast industrial experience and expertise in this business, Hi-tech has reached the milestone of becoming the best ro membrane distributor across the globe. Today majority of the Water Filter Dealers rely on Hitech ro elements as they are produced with an automated fabrication process that corroborates reliability, consistency, and precision. They have a wide range of water purifier membranes suitable for systems as small as home water filters to processes as large as kidney dialysis. Based on the vast requirements, Hitech distributes RO membranes in following categories:
Housing RO membrane: Hi-TechReverse Osmosis membrane elements for housing drinking water treatment are few of the most reliable and persistent products in the industry. The elements are uniquely engineered for high level of salt rejection while maintaining high water flux. Tested under 225 psi of pressure and 25 degree celsius of temperature, Hitech's membranes for homes and offices removes up to 98% of total dissolved solids and microbiological contaminants.
The performance of Housing RO Membrane elements supplied by Hi-tech are tested under these conditions:
         – 2000 PPM NaCl solution.
         – 225 psi (1.55 MPa) Applied Pressure.
         – 77 F (25 C) Operating temperature.
         – 15% Permeate Recovery.
         – 6.5 – 7.0 pH Range.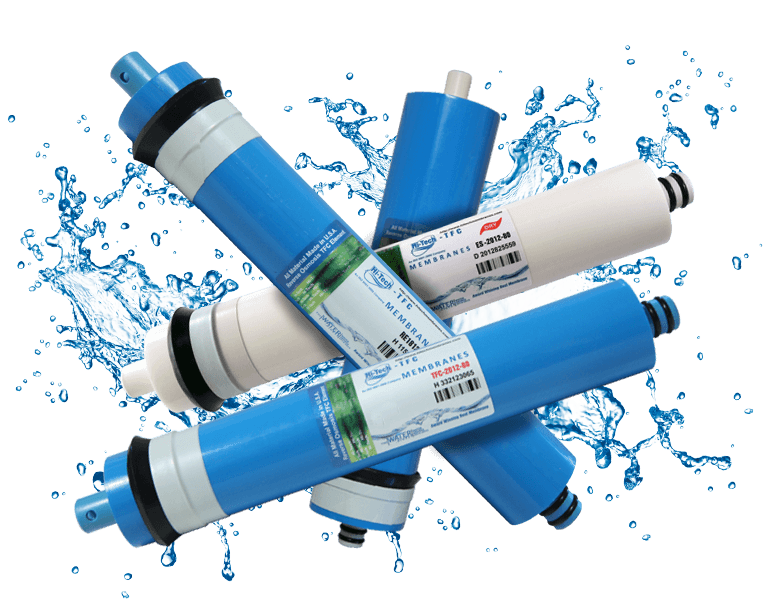 Commercial RO Membranes : Hi-tech provides an array of quality approved commercial RO membranes, formulated using the latest technologies to meet high performance and durability. Our extensive inventory includes a wide range of membranes for commercial establishments like small scale industries, hospitals, schools and shopping malls. Our Brackish Water ro elements range is best suited for challenging waters containing high amount of TDS.
The performance of Hi-tech Commercial RO Membrane elements is tested under the following conditions:
         – 2000 PPM NaCl solution.
         – 225 psi (1.55 MPa) Applied Pressure.
         – 77 F (25 C) Operating temperature.
         – 20% Permeate Recovery.
         – 6.5 – 7.0 pH Range.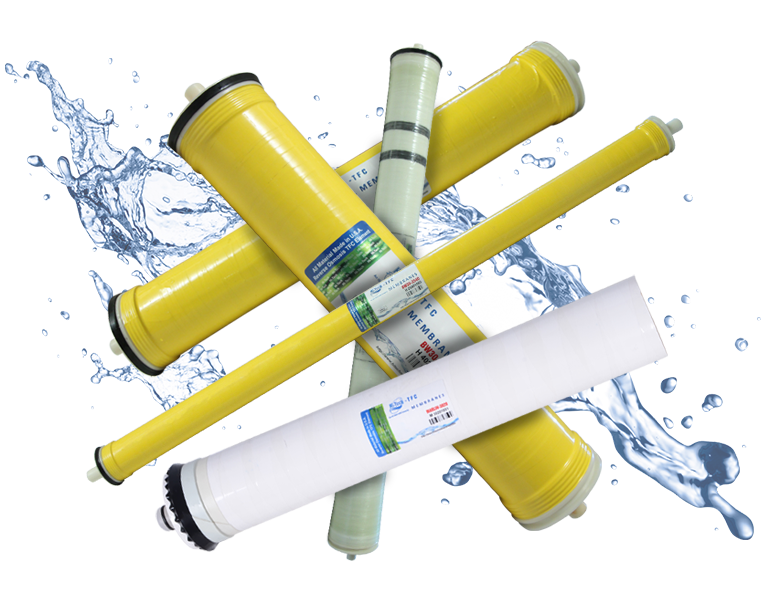 Industrial RO Membranes : Hi-tech CE certified Industrial RO Membrane elements are specifically engineered and designed for large industrial applications like dairy processing, kidney dialysis, pharmaceutical industries, laboratories, bio engineering firms and business offices. These elements are built using the most economical technology not only for the desalination of water containing salts, but also for purifying water contaminated with heavy metals, pesticides and other contaminants
Industrial RO elements by Hi-tech are tested under these conditions:
           – 2000 PPM NaCl solution.
           – 225 psi (1.55 MPa) Applied Pressure.
           – 77 F (25 C) Operating temperature.
           – 20% Permeate Recovery.
           – 6.5 – 7.0 pH Range.
Conclusion
There are many reasons why so many households and industries prefer a RO membrane water filter technology than any other type of water purification methods available today. They are effective when it comes to purifying water and making it 100% safe for drinking. If you are looking to get a good membrane for your water filtration system, then reverse osmosis membrane is surely the ideal way to go.